It's no secret that the Covid-19 pandemic kicked off one of the biggest paradigm shifts in recent history when it comes to how and where work gets done by knowledge workers. We're still living through these changes and no one can say for certain what the workplaces of 2030 will look like. We have a very interesting decade ahead of us and here's some of the data that's already showing the changes that are taking place since remote/flexible work became mainstream.
How big is flexible remote work? How big can it get?
At the peak of the pandemic in 2020, 56.8% of Americans were working from home at least some of the time. It's estimated that post-pandemic, by 2025, 36.2 million Americans will be remote, an increase of 16.8 million people from pre-pandemic rates. (Source)
When looking at the global scale, then Gartner Inc had estimated that by the end of 2021, 51% of all knowledge workers worldwide are expected to be working remotely, up from 27% of knowledge workers in 2019. (Source)
Gartner also estimates that in 2022, 31% of all workers worldwide will be remote (a mix of hybrid and fully remote). The U.S. will lead in terms of remote workers in 2022, accounting for 53% of the U.S. workforce. Across Europe, U.K. remote workers will represent 52% of its workforce in 2022, while remote workers in Germany and France will account for 37% and 33%, respectively. (Source)
But is there potential for even bigger growth? To put it shortly – yes. It seems that a huge number of employees are requesting some type of flexible work options going forward. For example, according to FlexJobs' 10th Annual Survey (conducted between July and August 2021), 58% of respondents report wanting to be full-time remote employees post-pandemic, while 39% want a hybrid work environment. That's a stunning 97% of employees who desire some form of remote work in the future!
This is also backed up by more recent data from Buffer in 2022. (Source)
And what happens if the companies won't accommodate these requests? According to Flexjobs, 52% of men and 60% of women will quit if they are not allowed to continue working remotely.
Why do so many people want to have flexible work options?
A study by TrustRadius found that 57% of tech employees surveyed during the pandemic believed they were more productive when working remotely from home and around a quarter (24%) believed that working from home didn't affect their productivity.
The general benefits (as shown on the graph below) reported by remote workers include flexible scheduling, lack of commute, cost of savings, ability to care for family, reduced stress, improved health, and the ability to live where you want. (Source)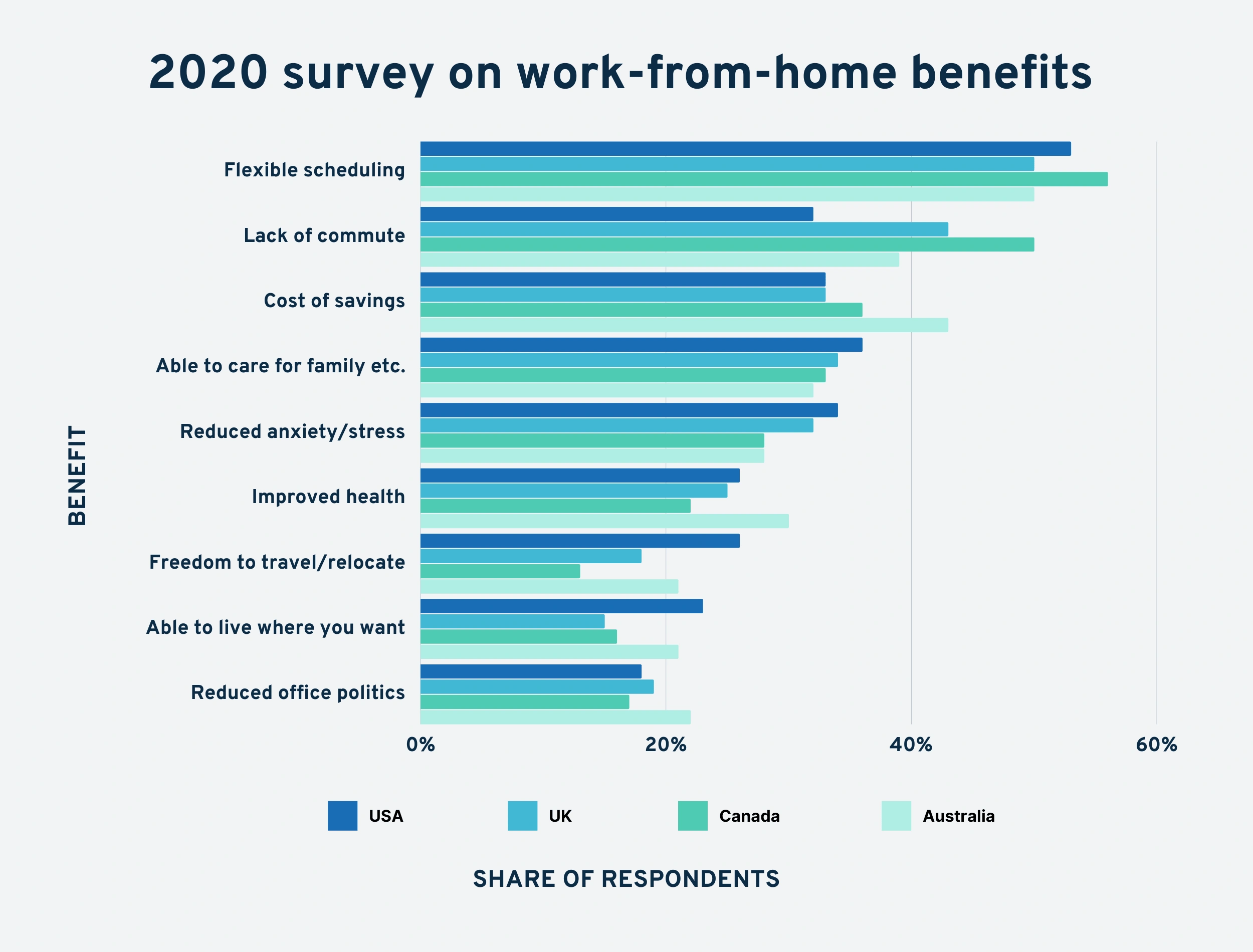 And a survey that targeted remote workers who had been working in the office before the pandemic reported showed surprising results. It turns out that 60% of newly remote workers say their work-life balance has improved. (Source)
And Buffer's 2022 study shows that flexibility in all different forms is the main keyword when talking about the benefits of remote work. (Source)
Challenges of remote/flexible/WFH work
From my personal experience, the biggest challenges of working from home are the distractions of the home environment and isolation. These notions are also backed by hard data from this study by Gitlab that explored the biggest challenges of working remotely from home:
Another study conducted by remote work veterans at Buffer says that "not being able to unplug" is the biggest remote working struggle with a 25% share of votes. (Source)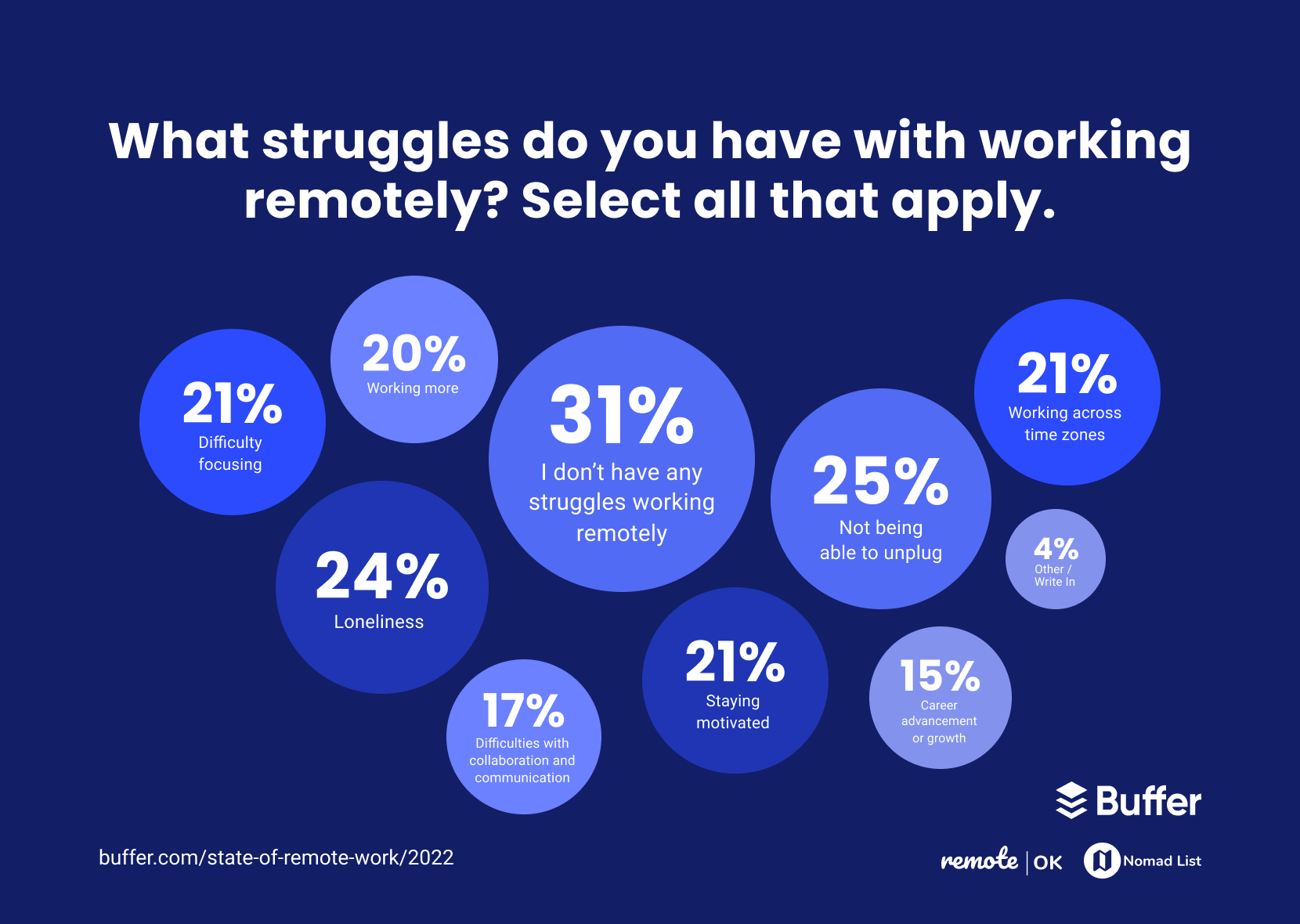 Where does work get done?
According to Buffer's 2022 State of Remote Work: "Just over half (59%) say they wanted to primarily work from home and 41% want to work primarily from other locations. This shift could be the result of COVID-induced wanderlust (in 2019, 84% of remote workers chose to work from home), but could also be the result of increased awareness of (and access to) on-demand coworking spaces."
21% of companies reimburse coworking expenses to their remote employees and this number keeps rising (especially in the US). (Source)
What type of companies are working remotely?
IT industry is leading the remote work revolution, but it's closely followed by other industries like finance, insurance, and healthcare. (Source)
Other interesting statistics about remote/flexible work & coworking spaces:
One-third of COOs plan to reduce office space in the coming years as the current leases expire. (Source)
The number of coworking spaces worldwide is expected to more than double by 2024, and surpass 40,000 (Allwork.Space).
By 2022, 13% of businesses outside the US will be using shared workspaces (Allwork.Space).
Prior to the pandemic, co-working spaces were the fastest-growing type of office space in commercial real estate. While they currently comprise less than 5% of the market, they're expected to make up 30% by 2030 (CNBC).
In June 2020, large companies accounted for 65% of WeWork's customers (WSJ).
The global market value of flexible workspaces is at approximately $26 billion (Communion Cowork).
65% of people working in coworking spaces are under the age of 40 years old (DeskMag).
Freelancers make up the largest coworking demographic in the world (ErgonomicTrends).
Fewer than one-fourth of coworking employees (22%) only work in a coworking space. This means that most employees use coworking as a supplement to their workspace, not as their sole work location (Clutch).
The average utilization of assigned seats is 60% globally, excluding vacant seats, while the global average meeting room utilization is just 30% (CBRE).
A company can save as much as 30% on the operational cost alone by working from a coworking space (Economic Times).
83% of individuals working from coworking spaces feel less isolated and lonely (Hbr).
According to GCUC's survey, 84% of coworkers say working in a coworking hub makes them more motivated (GCUC).
SMEs are currently the primary occupants of coworking spaces. Startup teams come second with 27.12%, followed by freelancers with 16.61%. (Source)
Just half of coworking hub members said they were part of the freelancing, consulting, or telecommuting industry, 40% responded they were hired by employers flocked in coworking spaces, and 10% are employers. (Source)
Generally, flexible arrival and departure times and full-time work from home/location independence are the most desired types of flexible workplace policies. (Source)
The data found employees want to work closer to home in the heart of their local communities, reducing the need to commute (something that can take a toll on mental health). IWG's suburban locations experience the largest uplift in office visits, with Dartmouth leading the way with a 163% increase in visits to its Regus location compared to January, followed by Hamilton (121%) and Waterloo (116%). (Source)
"As more Canadians turn their backs on long daily commutes, and instead choose to work flexibly from nearby coworking centers, demand for suburban and rural locations continues to rise," reads an IWG-issued press release. (Source)
Earlier research from IWG in the UK that revealed that employees are four times more likely to choose an office close to home than in a city center, with 82% saying the lack of a daily commute was a key benefit of hybrid working. (Source)
Globally, IWG has found that all-access membership plans to its flexible workplace solutions are up by more than 100%, year-on-year. When looking at shorter-term memberships, the numbers jump even higher: five-day memberships are up 120%, and 10-day memberships have soared by 150%, further proof that the hybrid working revolution is well underway, both locally and globally. (Source)
According to the recent IWG data, the most popular day to work from the flexible workspace as part of a hybrid working week is Wednesday, which increased by 31% in March compared to January. (Source)
The biggest driver of coworking growth in the foreseeable future will be corporate coworking as companies race to implement a hybrid work model to retain and attract new employees. (Source)
Increasingly, companies are leveraging coworking spaces to decentralize their office space and support employees that wish to work closer to home. As a testament to this shift, more than half of Wework's customers in the first quarter of 2021 are now big enterprises. (Source)
Conclusion
All of this data is gathered by different organizations before, during, and…dare I say "post-pandemic". It all paints a picture of a quickly evolving field that affects lots of different actors – employees, managers, employers, real estate owners, coworking space operators, etc. To sum it all up, remote work is here to stay, whether you like it or not, and a vast majority of employees that got to try it are not willing to give it up anymore. Let's wait and see how this all affects the bigger societal changes and try to work on providing solutions to enable better remote/flexible work opportunities for all knowledge workers.